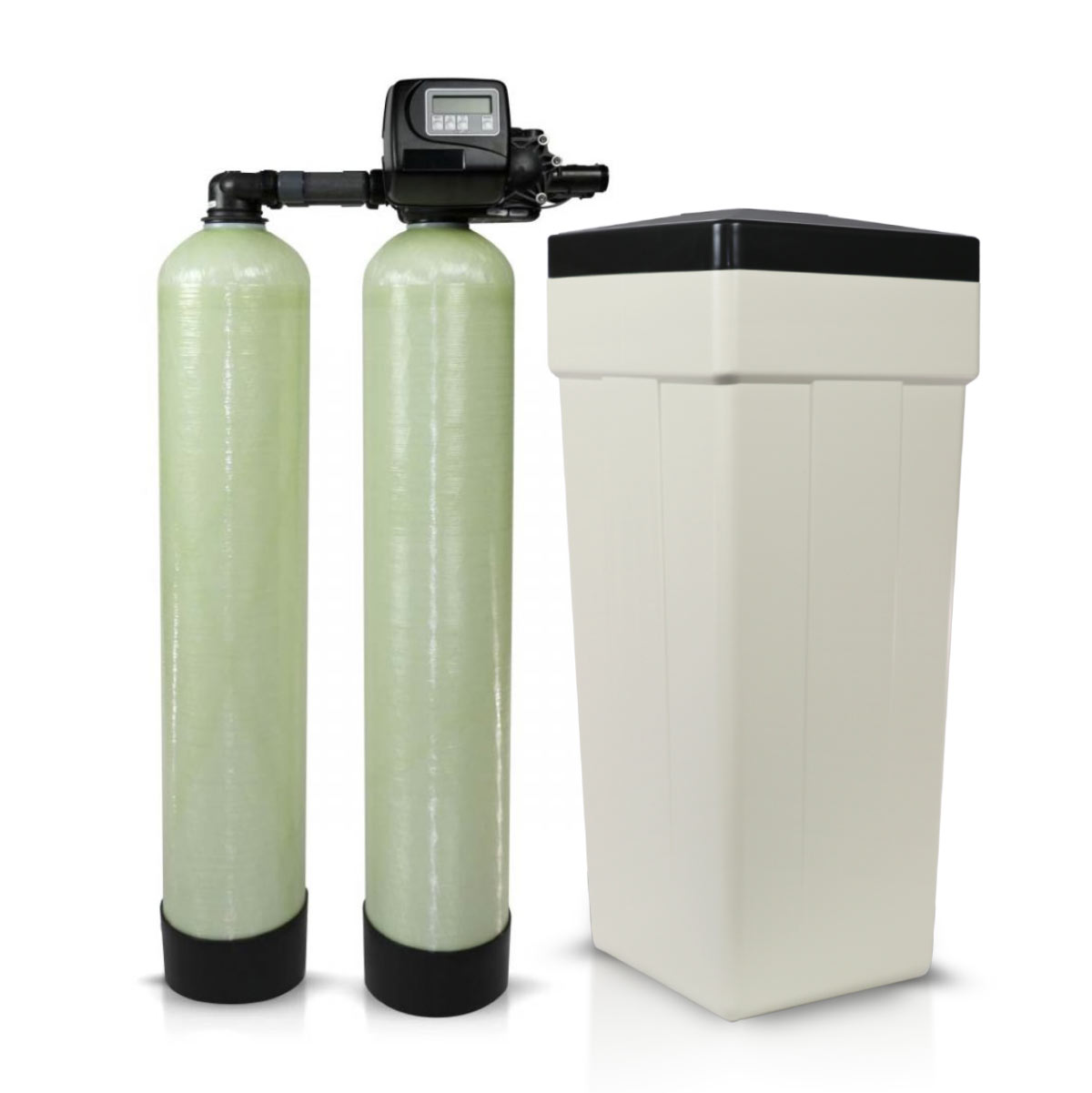 150,000 Grain (Dual 75000) Water Softener
Water Specialist 1″ Twin Alternating Control Valve
Model No.
AM1T-150
Control Valve
Water Specialist 1″ Twin Alternating Control Valve
Tank
Capacity: 150,000 Grain (Dual 75,000)
Description
The WS1 series valves were designed with the world's water treatment professional in mind, and incorporate many features that are a direct result of feedback from customers. The WS1 valves are manufactured from composite plastics and are designed to provide high flow rates (up to 27 GPM) over a wide range of applications. This provides water treatment professionals a great deal of flexibility in system design and greatly reduces inventory requirements.
Features/Benefits
Premium Resin

Available in 8% or 10% Cross Link Resin
WS1EE Twin Alternating Control Valve
Service flow 28 gpm, backwash flow 15 gpm with meter and bypass installed
Solid state microprocessor with easy access front panel settings
Front panel display for time of day, days until next regeneration, volume remaining, current flow rate and total volume used (Totalizer), and Tank in Service Indication
Four methods to initiate regeneration; meter immediate, meter delayed, time clock delayed or pressure differential
Optional double backwash feature offers optimum regeneration, cleaning ability and efficiency
Adjustable cycle times with 6-cycle control delivers controlled backwash, downflow brining/slow rinse, second backwash, fast rinse, refill and downflow service• Coin Cell Lithium battery back-up with a 8 hour carry over
Backwash and brining ability to 21" diameter tanks
Downflow or upflow brining regeneration
Level VI 15-volt output DC power supply provides safe and easy installation
Treated/Soft water post fill and regeneration cycles
Reliable and proven DC drives
One piece expanding seal spacer stack assembly
Linearly reciprocating piston operation
Process:
Twin alternating water softeners are ideal for uninterrupted and continuous flow of soft water. One of the two resin tanks is always in service, while the other tank is on standby. When the softening capacity is reached in one tank the WS1EE Meter Control Valve will activate service for second tank. The tank containing the exhausted resin will regenerate and be on standby until the active tanks' capacity is reached.